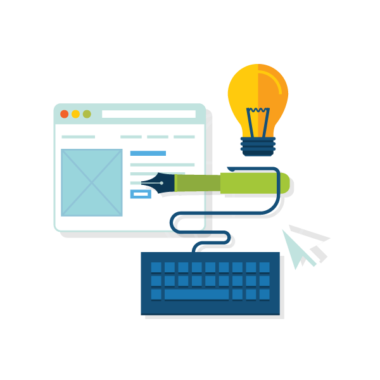 Content Marketing Strategy
We tailor a bespoke content marketing strategy for each client. Our experienced copywriters know exactly how to make words sell.
Content is King. The simple reason behind this is both search engines and online customers like websites that have great content.
Why Content Marketing Services at Profound Digital?
Why not any other freelance writer? Seasoned research and content writers at Profound Digital have more than just good writing skills. They have a good understanding of:
How search engines work
How people consume information on the Internet
How to create and leverage different types of content
How to get natural links to your website using content
How to work with other Internet marketing professionals
Just creating a website and putting some content on it will not really help. Whether it is a new website or one with hundreds of pages – you need to do it in a systematic way.
We at Profound Digital will review your website, your content marketing goals, your overall internet marketing goals and your budget before defining a content marketing strategy. Our content marketing strategy clearly defines the types (and proportions) of content marketing services to be deployed.
Content Marketing Services at Profound Digital:
Broadly, content marketing services can be classified into on-page and off-page content.
On-page content:
On-page content is the content on your website. Whether you are launching a new website or revamping an existing one, we create high quality web pages that are relevant and useful to your visitors. We do optimize them for search engines to get better rankings.
Main Pages
Pages like Home, About Us, Contact Us, etc. are the main pages of your website. We understand your business and create meaningful content that reflects your business to your visitors.
Services Pages
We help you optimize all your services pages and product descriptions with the right keywords. We also ensure these pages are usable and action oriented to convert visitors into buying customers.
Legal Pages
Pages such as Privacy Policy, Terms of Use, etc. convey that yours is a genuine business and build authority to your website. Our skilled copy writers with years of experience and skill help you write these pages.
Blog Writing
Fresh content is one of the major search engine ranking factors. It also builds loyal visitors, who can eventually be converted into customers. We help you create and post at least 3 to 5 blogs/articles on your website per month.
Authoritative Content
The more authoritative your content is, the better are its chances of ranking. We help you create authoritative content which includes Case studies, White papers, Research Driven Articles, Infographics, etc.
Meta Content
No matter how great content you put on your website; it's of no use if search engines can't figure out what it is. We create meta content – meta titles, meta descriptions, etc. – to help search engines fully understand your site's content.
We are aware of the importance of a successful content marketing campaign, which is why we create informative, engaging and persuasive content that captures customers' interest. We tailor a bespoke content marketing strategy for each of our clients.
We provide content that will convince web users to click through to your website for special offers, to purchase your products or contact you about your services, because our experienced copywriters know exactly how to make words sell.
Off-page content:
Off-page content is highly relevant and informational content that is created and distributed on third party websites to attract, acquire and engage a clearly defined target audience – with the objective of driving profitable customer action.
Articles for Syndication
Articles for syndication – By writing and publishing articles only on your website, you are serving only a limited number of people with your content. In order to get your article more exposure and quality backlinks to your website, you need to publish it at multiple places where people are actively looking for that information.
Press Releases
Press releases – Press release is a good way to keep in touch with your existing customers and to attract new ones. We help you create press releases that promote your services and show developments in your business to your targeted audience.
Guest Blog Posts
Guest Blog posts – We help you write for some of the best websites related to your business. You can bring in quality traffic and of course, natural links back to your website.
Content for Social Media
Content for Social Media – Social media is one of the important marketing tools online. We help you create engaging content that drives awareness for your brand.
Content Audit
Content audit – Before we take up any SEO and content marketing project, we recommend our clients to go for content audit of their website. As part of this audit, we check for multiple aspects that can seriously impact search engine rankings and user behavior on the website. Some of them include spelling and grammar check, plagiarism check, keyword stuffing, keyword prominence, usability check, etc.
DMCA Filing
DMCA filing – You copying and using someone else's content is not a good practice. At the same time, you need to make sure someone else is not using your content without your consent and ranking ahead of your website on search engines. If someone is doing so, we help you file DMCA request and remove the infringing website from search results.
Content for PPC ads
Content for PPC ads – Your PPC ads won't be effective unless the content on the ad is relevant to the landing page. Our experienced copywriters work with you to create quality content for PPC ads.
Panda Penalty Recovery
Panda penalty recovery – Low quality content and poor SEO structure attracts Panda penalty from Google. You will suddenly see drop in rankings. Our staff editors will review the website's content quality and help you with the recovery.
Tell us about your project
Let us help you get your business online and grow it with passion
Attract and persuade your target market and increase your website's visibility in the search engines with the content provided by our professional copywriters.
"We've looked at a lot of SEO solutions but these guys were always the clear favorite. They have the right strategy and they've been awesome to work with." Irene Warner
CEO & Founder
"We have a constant flow of new leads thanks to this amazing SEO company. They gave us all the tools to convert leads into customers." Jeffery Polk
CEO & Founder
"great team of professionals! I am glad i found them. Thank you so much for all your hard work!!!!" Gabriel Townsend
Quality Realty Service