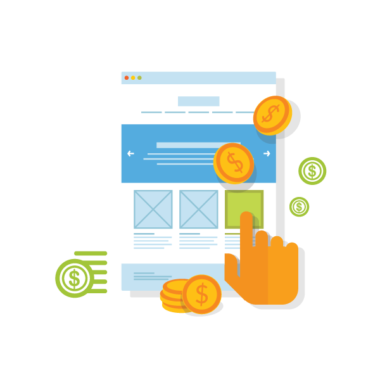 Pay Per Click (PPC) Management
Pay Per Click has an instant impact and gives your brand a much larger reach and exposure as a result of first page exposure on major search engines.
Pay-Per-Click (PPC) management or Google AdWords campaign management is a paid advertisement program that enables you to place your ad on top of the search engine (Google) results. PPC is the easiest way to promote your business or products in a quick time.
PPC gives you flexibility to control the budget you spend for the ads, keywords for which your ad should display, the geography in which your ads should come and even you can make your ads display only to a certain segment of audience and in specific time.
PPC consultants at Profound Digital have rich experience in setting up to managing the campaigns of a small local business that spends a few hundreds of dollars a month to eCommerce companies that spend over $25,000 per month. If you already have a campaign running, we can analyze and tweak it to maximize ROI.
Profound Digital's PPC or Adwords Campaign Management process
We follow the below process to create & manage your PPC (AdWords campaign)
PPC consultants understand your business & campaign goals:
First step is to understand your business and customer profile. We will take inputs from you on your top selling products or services and typical characteristics of your target customers.
Though we have the expertise in assessing your business and designing the campaign, your inputs about your business and your goals will help in us in strategizing a successful campaign and meeting your expectations.
Keyword research & campaign setup:

The success of a PPC campign majorly depends on the selection of keywords. While ensuring the keywords selected are with decent search frequency, it is also very important to see that they are closely related to the client's business. This determines the Click Through Rate (CTR) and bounce rate which will have effect on the quality score of your ads. You may wonder what this quality score is. It is a score given by Google on a scale of 1-10 for each keyword you want to target in AdWords. This is given in relation to quality of the Ad you want to display and the landing page and its relevancy to the keyword.
Monitoring, Optimizing & Reporting:
After a PPC or AdWords campaign is rightly setup, it is equally important that it is monitored and optimized. By analyzing the campaign report statistics, we will know performing as well as non-performing ads, keywords and campaign on the whole. Based on this, we make appropriate changes to the campaign.
We will provide you detailed monthly reports with the key statistics through which you can know the progress and performance of the campaign.
If you are looking for quality adwords campaign management at an affordable price, Profound Digital would be the right choice as we offer PPC services from India.
Tell us about your project
Let us help you get your business online and grow it with passion
Contact us today and get maximum returns of your investments.
"We've looked at a lot of SEO solutions but these guys were always the clear favorite. They have the right strategy and they've been awesome to work with." Irene Warner
CEO & Founder
"We have a constant flow of new leads thanks to this amazing SEO company. They gave us all the tools to convert leads into customers." Jeffery Polk
CEO & Founder
"great team of professionals! I am glad i found them. Thank you so much for all your hard work!!!!" Gabriel Townsend
Quality Realty Service